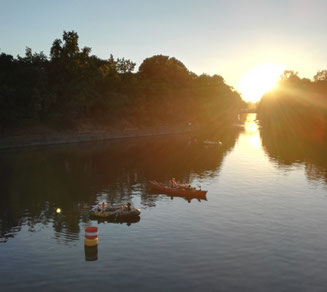 With Verena from Verborgene Sehenswürdigkeiten Berlin
We hear the question all the time: What's a fun, low-cost adventure in Berlin that requires little planning? With that question in mind, we put our heads together and came up with just the thing: Dignhy-boating on the Landwehr canal.
Dinghy tour on the Landwehr canal
By paddling with a rubber dinghy on the Landwehr canal you can enjoy Neukölln from a unique perspective and try out a new activity without breaking the bank. You can pick up a rubber dignhy at local shops like Kaufland or Real for less than 50 Euro. And, because the Landwehr canal is off-limits for motor boats, you can very peacefully paddle your way into the heart of Neukölln. Earlier this month we set 'sail on a lively adventure we'd highly recommend.
A dinghy adventure is amusing, a dinghy adventure is nice…
that's how the German saying goes.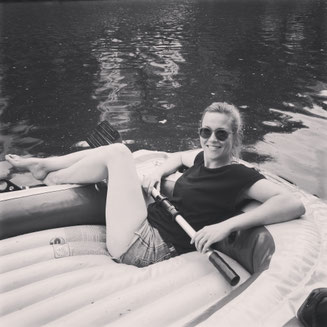 Many people think that activities in Berlin can be costly, or mobbed with tourists and other adventure-seekers. Especially during summer, a lot of places can feel overrun due to Berlin's popularity as a travel destination. This is correct and wrong at the same time. We, for example, are absolute advocates of spontaneous entertainment. We are convinced that unforgettable adventures in Berlin don't need to be expensive or heavily-planned. In order to prove this, we jumped into this adventure and on to the water (which isn't the warmest) with pleasure – more or less literally.
From air pumps to paddling
Full disclosure: we did not actually jump in the cold water. Despite our efforts, it did manage to make it's way into the dinghy with the waves lapping above the rail of our rather sporadically blown up rubber dinghy (since we had forgotten the air pump). Do yourself a favor and do not forget the air pump - that's a little advice on the house. It took us half an hour to blow the dinghy up and we got pretty dizzy in the process. As we were eager to end our dinghy-inflating session and wanted to get on the water, we got a little enthusiastic and plunged the dinghy into the Landwehr canal. Only to find out shortly afterwards that it's not a great idea to sit right next to each other in the boat due to flooding... Strategic placement is key.
But we thought, what the heck, and though slightly damp, we were still very game for the adventure and stowed our wine and delicious walnut cookies from Katies Blue Cat into the boat. And just as we began our paddling adventure, the sun conveniently disappeared and the wind picked up, blowing our hair slightly more than glamorously. Take it from us, it is definitely a workout to paddle on the Landwehr canal.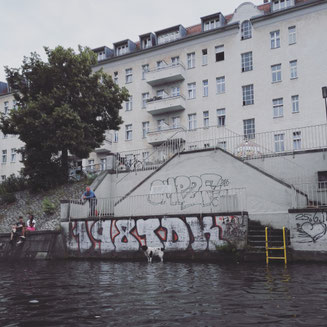 There are many places where you can take out your boat on the Landwehr canal (or in our case, plunge both your boat and your body into the canal). We started from the Weigandufer, a calm spot where you can enter peacefully and dock easily. But you can alsol start from the Fraenkelufer (just opposite from the Ankerklause). There it is busier and a bit more lively, but the docking is more difficult. Our destination was the triangle of the canal, as the water stream and swans go to sleep there and you can rest from paddling and chill. If you start at the Fraenkelufer you can paddle in the other direction.
Along the canal you find many spots to get off the dinghy as well:
a lot of Spätis to get drinks of course

delicious food options from Mmaah, Cabslam, May am Ufer, Nansen, Katies Blue Cat, Ankerklause, Candy on Bone to Il Casolare.
*The order holds when you start from Weigandufer.
It was already getting dark when we saw our landing spot after three hours of paddling. Yellow "our" ladder shone by the twilight. These ladders are placed, by the way, every 50 metres by the canal wall and therefore not only your friend and assistant if you fall in the canal, but also qualify very well for 'kilometre' drinking.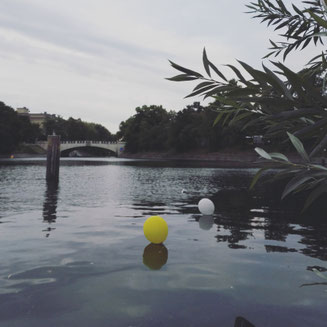 Interested in having an adventure of your own on the Landwehr canal? Our checklist for a successful paddling experience in Berlin is below:
Spontaneous people (strong paddlers, or at least four lively paddlers are recommended)

Do not forget the air pump and drinks as well as some food (just in case)

Bring dry clothing and a towel in a waterproof bag as it can get cold and a dinghy adventure can take longer than you think...
This recommendation is an addition to the Mini Pocket Guide BertaBerlin (for Berlin and Neukölln).