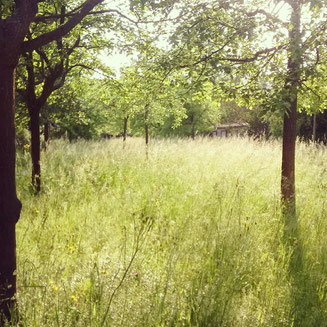 100 meters from all the falafel stalls on Karl Marx Street, I found a secret garden named Comenius Garden. If you are searching for a break from the urban landscape of Berlin, you can find it in this hidden Garden in Neukölln. You'll find fruit trees and a small pond here. You can even take some blackberries, quinces, plums and more.
You enter the Garden Comenius through a gate. The Garden itself is locked, but there is a bell which you can use to open the gate. A bell and a garden plan have been attached to the fence. Once a month, from spring to autumn, you can participate in guided tours on the botanical and historical aspects of the Comenius Garden.
Fruit-trees and history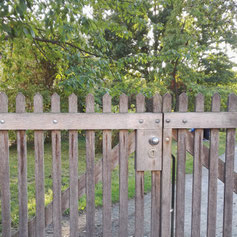 The Garden can be entered at the Richardstraße 35, in the middle of the former Böhmischen Dorf (Bohemian Village). In the 18th and 19th century, this village was called Böhmisch-Rixdorf. In 1912 the Böhmische and the German Village were united and named Neukölln.
The Garden is named after Johann Amos Comenius (1592-1670). He was a Czech pedagogue, who became the father of modern education. Comenius introduced pictorial textbooks, written in native language instead of Latin, and supported the idea of equal opportunity for children and opened doors to education for women. 
At both sides of the garden the sequence of the life cycle, as Comenius taught it, continues. The walnut tree of life at Karl-Marx-Platz stands for the beginning. The Bohemian graveyard in the Kirchhofstrasse is the end. The Comenius Garden is a place to meet for both young and old. Walking on a path through the garden you will pass fruit trees, a wooden stage referring to Comenius' book Schola Ludus, a pond, and a charming pavilion. 
Comenius Garden offers you a beautiful place to walk or sit (on park benches) in the sun. The meadow may not be entered, because it contains a carefully preserved biotope. At the end of the Comenius Garden you will find rolls of fruit trees, which can be pluck. But you are kindly requested to only reap as many fruits as you can carry in your hands.
The Comenius Garden is an addition to my recommendations
of the Travel Guide BertaBerlin (for Berlin and Neukölln).