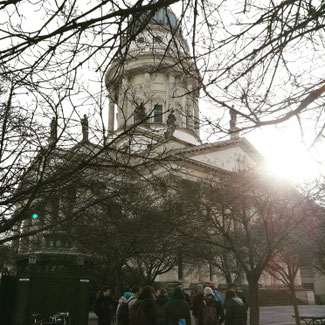 For people without a home - things we take for granted - become a struggle. With the homeless, the perspective changes: Streets, parks and places become everyday living space. As a privileged person who can travel the world and live in Berlin, I am very grateful for my life and do not take everything for granted. Uwe, Klaus and Dieter guide you through Berlin, and let you discover new details about the city.
The three querstadtein tours focus on another perception of Berlin. Former homeless guide you through their neighborhood and inform you about homelessness to impart delicate subjects in a light way. I absolutely recommend you to visit one of their monthly tours. Here is an overview:
Berlin: Homeless show their city
On this tour, Uwe talks about his years of homelessness shortly after the German reunion. Beside special sleeping places, friendships, and his unusual biography, you will learn about German history, survival strategies, as well as possibilities of utilizing and designing public spaces.
Where: The tour starts in the central station (Hauptbahnhof) and leads you through the campus of the Charite to the river Spree. It includes the Friedrichstraße, the Monbijoupark, the Museum Island and the fountain of Neptune at Alexanderplatz.
2 hours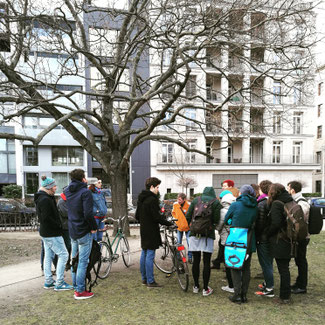 Klaus takes you on his everyday walk when he was homeless. As a bottle collector, he survived on the street without begging and social help. You learn how you live privately in public spaces and how everyday life can look without money in Berlin.
Where: The tour starts at Leipzigstraße 54 / Niederwallstraße, close by the station Spittelmarkt (U2). It includes the Hausvogteiplatz, the Gendarmenmarkt, Checkpoint Charlie und ends at the Martin-Gropius-Bau.
2 hours
Dieter tells you about his life on the street in winter 2012. When he was stranded in Berlin, he joined a group of homeless at the Zoologischen Garten. The tour is shaped by his stories of the displacement from the public space, but also of helpful Berliners and friendships, which you only find living on the street.
Where: The tour starts at the station Zoologischen Garten, and Dieter guides you through the University of Technology, the Kantstraße and the Wilmersdorfer Straße to the station Stuttgarter Platz (S5, S7, U7).
2 hours
The tours are regularly in German, but sometimes with English translation. Just ask beforehand.
If you want to find more hidden gems of Berlin, check out my folding maps BertaBerlin. They are available in well-chosen locations all over Neukölln, Kreuzberg and Prenzlauer Berg and online. But for those of you, who want to stay up to date, feel free to follow me on Instagram, Facebook or register for my newsletter.