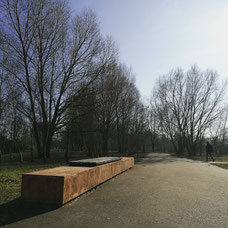 In Berlin, you often find skateparks and skate spots where you least expect them.
For skateboarders, the city is not just a place to live, but a sprawling playground to skate all kinds of different, seemingly random spots. Of course, skateparks are also a social hub: a welcome place to skate, meet friends and let the good times roll.
The history of skateboarding goes back into the late 1940s, when surfers in California started to screw wheels under their surf boards. Today, skating maintains the simplicity of its humble beginnings: four wheels, a board, and a hard surface. In this article, I do not want to rank skateparks and skate spots, but instead to point them out to you so you can experience them for yourselves. Today you can find skate spots pretty much everywhere, so here are 11 unique skateparks and skate spots in Berlin.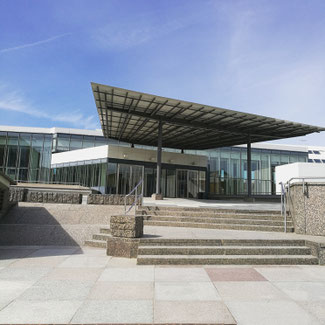 Skate spot: Kulturforum
in Mitte
The Berlin Kulturforum with its museums and concert halls is not only a place for people interested in the arts, but also for skateboarders. The surfaces boast smooth granite ground, a huge number of curbs, gap and steps as well as various banks infront of the museums, making the hearts of skateboarders leap for joy. Located very centrally, far from the traditional skatepark atmosphere, you can try your tricks of any level on different obstacles and objects.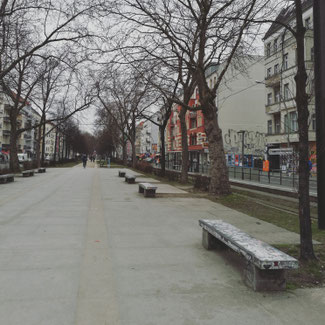 Skate spot: Benches at Warschauer Straße
in Friedrichshain
The benches of the Warschauer Straße are a true bedrock of the skate scene in Berlin. Between the streetcar rails you can find a row of benches with metal surface, which invite to skaters to try one trick after the other.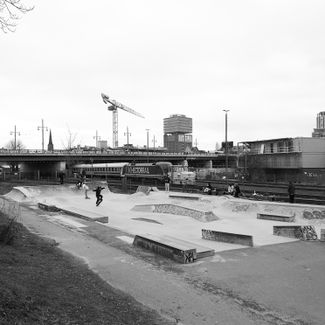 Dog Shit Spot at
Warschauer Straße
in Friedrichshain
If this is not enough, you can move on to the skate park Dog Shit. Beside curbs, a rail and a hip, the demanding quaters with concrete paving slabs as cooping gets the adrenaline pumping in skaters of all abilities.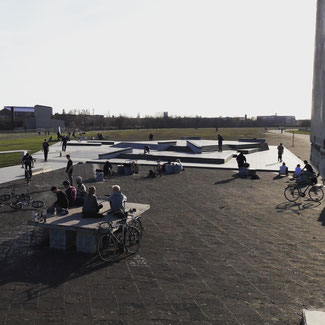 Skatepark Vogelfreiheit
Tempelhofer Feld was once one of the world's busiest transport hubs. Today it is a community park, where barbecues, sports and other social events are held around the twin runways. In the south of the Tempelhofer Feld you can also find a skatepark Vogelfreiheit.
Here you can skate small up to medium sized curbs, ledges, manual pads, different banks and stairs. The skatepark is off the otherwise crowded Tempelhofer Feld. This skatepark is for everyone who loves street obstacles, less transitions or rails.
Hours: Jan 7:30-17, Feb 7-18h, Mar 6-19h, Apr 6-20:30h, May 6-21:30h, Jun 6-22:30h, Jul 6-22:30h, Aug 6-21:30h, Sep 6-20:30h, Oct 7-19h, Nov 7-18h, Dec 7:30-17h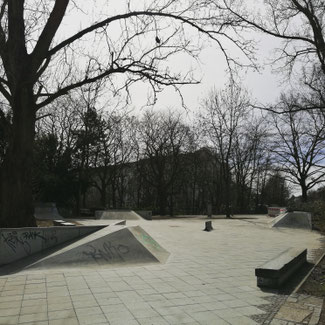 Skatepark Böcklerpark
in Kreuzberg
In Kreuzberg, between Prinzenstrasse and Landwehrkanal, you can find a green skatepark which invites skaters to skate creative lines on various ramps and granite blocks. In contrast to Hasenheide and Vogelfreiheit this skatepark is more in the shade, so you can skate here in summer without getting too hot. Usual skatepark elements you'll be hard-pressed to find here. Despite of the central location, even beginners have enough space to practice new tricks on one of the park's many obstacles. Once you've gotten your fill of skating, you can sit down on the Landwehrkanal and enjoy the evening sun.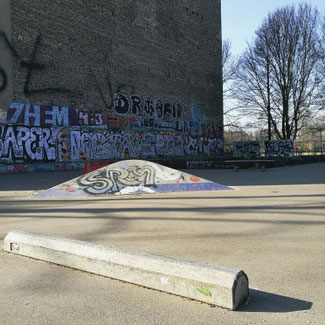 Skateparks: Lohmühlenbrücke at the Maybachufer
in Neukölln
The skatepark at the Lohmühlenbrücke (bridge) is small and equipped with one volcano, small ramps, a ledge and some obstacles in a nice atmosphere. This spot is suitable for beginners, but also others who like good sessions on benches and small transitions.
This skatepark is around the corner of the triangle of Landwehrkanal. This is a very picturesque part of the canal where the swans go to sleep. In summer you can sit down on the side of the canal and relax.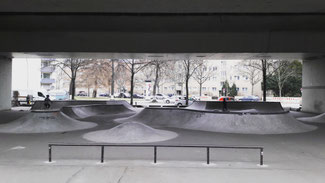 Skatepark at Heidelberger Platz in Wilmersdorf
Here you can skate even when it rains. This skatepark is located under a gigantic highway bridge (so no local residents will complain about the noise) and close by the station Heidelberger Platz. At this park, you'll find some obstacles, as you can see in the picture.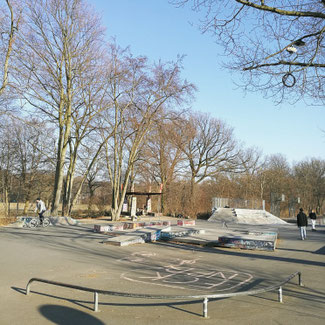 Skateparks: Hasenheide
The skatepark Hasenheide at Columbiadamm 184, 10965 Berlin, is no standard concrete park, but a really practicable area. And when the sun goes down, you can watch a movie under the stars while being surrounded by a forest in the open air cinema Hasenheide, which is located in the park as well.
Skatehalle Nike SB Shelter
in Friedrichshain
This skatepark offers ledges, gaps, hubbas, rails, banks and transitions in different shapes and sizes all crafted from the smoothest concrete. From absolute beginners, motivated and advanced amateurs, all the way to the world's top professionals – this skatepark offers fun and challenging terrain for every skill level.
Whether it's raining, snowing or freezing cold, the skatepark Nike SB Shelter offers pure skating pleasure all year. On over 800 m² you can find a street course built of the finest concrete. The variety of the ramps leaves no wish unfulfilled. Besides the indoor vertramp, bowl and mini ramp they provide an climbing cone, an open-air cinema, a summer garden and a café. Also premieres of skateboard videos or show events take place here (just check their website).
Skatehalle Nike SB Shelter, Revaler Str. 99, 10245 Berlin
Mo, Tue, Thu 14-20h, Wed, Fr 14-24h, Sat-Sun 13-20h
Skate spot: Pappelplatz
in Mitte
The skatepark on Pappelplatz has various concrete ramps like curbs, a flatrail, a manualpad, a low to high curb and a bank-to-table with two parallel-running, round rails on both sides. There are endless possibilities to try tricks for pros and beginners. All concrete obstacles are covered with a metal edge. A visit is definitely worth your while, as skateparks in Mitte are rare.
If you want to find more hidden gems of Berlin, check out my folding maps BertaBerlin. They are available in well-chosen locations all over Neukölln, Kreuzberg and Prenzlauer Berg and online. But for those of you, who want to stay up to date, feel free to follow me on Instagram, Facebook or register for my newsletter.