Not only on Happy Earth Day should we think about how we can make our world a little better. For those who did not know it yet, Happy Earth Day is the 22nd of April! I try to show readers cafés where you will want to stay but also how you can use reusable coffee cups with my CoffeeBerlin map. Or where you can find vegan spots in Berlin with my VeganBerlin map, today I would like to make our world also more 'beautiful' for you and show you vegan beauty spots in Berlin! If you want to know more about beauty spots in general, you can also check out my BeautyBerlin map. An honourable mention is CAP Beauty, the reincarnation of Castor & Pollux as an all-natural beauty store, opening up later this spring. But until then, there's plenty of vegan beauty places to hit up in Berlin—check them out!
Urban Cosmetics
Beauty, health and nature are in harmony if customers buy cosmetics in this friendly little boutique. The owners have a wealth of knowledge and products are 100% natural, organic, vegan and handmade right in store. Tip: try one of their wheatgrass shots to ultra-boost your health while you decide what new vegan beauty products to try out next.
Lausitzer Platz 11, 10997 Berlin (Kreuzberg), +49 30 23 56 69 17, www.ucberlin.com, Station: U1 Görlitzer Bahnhof, Tue–Sat 12:00–19:00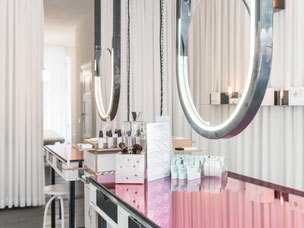 Wheadon
Wheadon is a beauty salon and shop, where customers get a great cut in an extremely chic location with a warm atmosphere. Nicole and her colleagues offer not only unique cosmetic products but also beauty treatments for men and women. Next-door you can get your make-up done or an AquaFit SkinTrainer for your skin! It enables a multifunctional, highly effective and yet extremely gentle facial treatment. Using a handpiece, skin is massaged with a sodium chloride jet at a maximum pressure of 7 bar. In no time you will feel completely refreshed and your skin looks even more vital, even and healthy (20 min, 35 Euro). Here you can find environmental friendly brands like Dr. Bronner.
Steinstraße 17, 10119 Berlin, +49 30 52 66 06 21, service@wheadon.de, www.wheadon.de, Station: U8 Weinmeisterstraße, Mon–Sat 12–19
Merme made in Berlin
Merme Berlin is natural beauty handmade in Berlin! I am in love with Claires beauty products since I recommended them in my VeganBerlin guide. Her beauty products have a minimal ingredient philosophy, that means each ingredients of their beauty products are chosen with the focus only on the raw pureness of plants. Since this month Merme welcomes a new member to the family: a vegan facial collagen serum. It consists of the world's first vegan collagen! Unlike all comparable products, it is produced from vegetable sugar. The serum is available in there online store but also at Kauf Dich Glücklich!
Merme Berlin at Kauf Dich Glücklich, Rosenthaler Str. 17, 10119 Berlin, Station: U8 Rosenthaler Platz; www.mermeberlin.com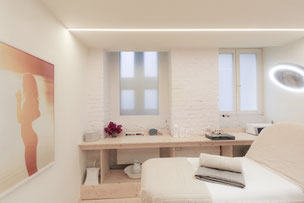 MDC cosmetic Berlin
This space offers vegan skincare and holistic wellness treatments to nourish both skin and body from head to toe. Within her shop in Prenzlauer Berg, Berlin, Melanie offers her favourite brands including vegan brands such as the Australian vegan beauty label Aesop with face, hair and body care from the rainforest of Rahua. Here you can also enjoy relaxing beauty treatments like the microdermabrasion and ultrasound facial. All treatments can be mixed, matched and personalized to assure you a beautiful glow.
Knaackstraße 26, 10405 Berlin (Prenzlauer Berlin), +49 30 40 056 339. mail@mdc-cosmetic.com, www.mdc-cosmetic.com, Station: U2 Senefelder Platz, Mon–Sat 10:00–20:00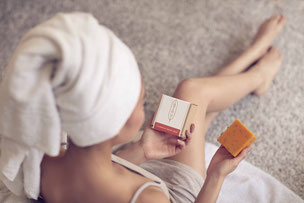 Binu at Haut & Sein
Stress can have a huge impact on skin condition. That's why Jana Pákozdi combines coaching and beauty cosmetics. Her holistic treatment concept includes coordinated facial skincare as well as in-depth conversation with her customizers. In her beauty store you will also find vegan soaps by Binu Beauty Naturkosmetik. Made from scratch in Korea with high quality, vegan ingredients that are not so well known from western beauty, such as Bamboo Leaf Pulver, Activated Bamboo-Charcoal and Hinoki-Water, to nourish the skin. The face brush I also highly recommended.
Mulackstraße 32, 10119 Berlin, +49 172 68 82 228, mail@hautundsein.de, www.hautundsein.de Station: U2 Rosa-Luxemburg-Platz Mon, Wed 12:00–20:00, Tue, Thu 10:00–20:00, Fr 10:00–19:30, Sat 10:00–16:00
www.binu-beauty.de
Extra tip for hair days
If you want your hair done the vegan way - which means using brands who abstain from animal testing then this studio is the right one. Hairdresser Veganja makes sure you get a great consulting and excellent results! Try out this vegan beauty experience to feel thoroughly refreshed. 
Kopenhagenerstraße 75, 10437 Berlin, +49 30 85 01 59 76, haarstudio@weinhoenig.de, www.weinhönig.de, Station: U2, S8, S41, S42 Schönhauser Allee