Our beloved Berlin is boiling with temperatures reaching record highs this summer! Most likely, you don't have time to flee the city for a dip in a cooling lake each day. Worry not, we have the answer to the question, where the best vegan ice cream in Berlin!
With the sun shining and everyone outside and in a good mood, we love everything about this long ice cream season. For you we got into the queues (in front) of the parlours of Berlin's inventive ice cream creators to try and test especially their plant based varieties - quite a challenge considering all the new openings this season :)
Who is we? Claudi from GreenMe Berlin and I – are currently working on a VeganBerlin map and did find some awesome vegan ice cream shops on the way.
More earth-friendly food spots are coming your way: We're super excited to be collaborating for a map including our favorite vegan ice cream spots in Berlin. You can already preorder the map here to receive it in autumn. While we're busy finishing it (for you) we won't deprive you of five cool spots from the map to sweeten your hot summer days in Berlin.
Enjoy "ice green", help save the world!
We recently wrote about all the benefits that come with the popular vegan lifestyle in our Brunch Guide. Berlin is the perfect place to give this vegan thing a try! Here, no one has to sacrifice, there are plenty of options for plant-based refreshments. Many ice cream makers make a change and include more fruit sorbets and soy-, almond-, rice- or coconut-based ice cream to their range.
Here are our green top five vegan ice cream spots in Berlin: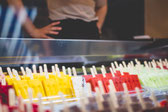 Paletas Ice Cream
Paletas is a real diamond amongst the ice cream shops in Berlin. These Berlin manufacturers specialising in ice popsicles ice make their yummy paletas from whole fruits and fresh ingredients since Sommer 2012. Enjoy the paletas ice lolly happiness in many cafés throughout Berlin or in their own shop in Friedrichshain.
With lots of vegan fruit sorbets and flavorsvarieties based on coconut we promise you taste explosions of blueberry cheesecake, strawberry-lime, buttermilk-lemon and much more.
Paletas, Wühlischstraße 26, 10245 Berlin Friedrichshain, www.paletas-berlin.com/eisladen, March–October Mon–Fri 13–21, Sat–Sun 12–21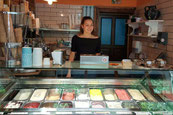 Balaram Ice Cream
Check out the first all-in-all vegan ice cream shop of Berlin in the heart of Friedrichshain! They even offer vegan waffles, toppings and whipped cream!
Since 2016, Ferdinand and his team offer specialities of the local vegan ice producer Eiskontor Berlin. With 18 regularly changing creative flavours like New York Cheesecake or Peanut Butter, the only downside here is that you have to make a choice! Try out a larger variety of flavours by opting for kid's scoops and pimp it in the "free-topping-area" with sauces and crumbles. 
Little tip: They also run an amazing Goura Pakora - an all-vegan South Indian restaurant just around the corner.
Balaram, Gabriel-Max-Straße 17, 10245 Berlin Friedrichshain, Mon-Thu 12–22, Fri-Sat 12–23, Sun 12–22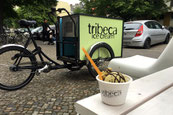 Tribeca Ice Cream
Not far from Mauerpark, there is another ALL vegan ice cream shop in Rykestraße that we absolutely love!  Inspired and back from New York, Frank and Klaus of Tribeca Ice Cream created a concept and a product that is good for your health and the planet: Only organic products are used, their entire range of ice cream is based on rice milk and coconut oil and all their homemade creations are without refined sugar and and free of soy or gluten!
The (n)ice guys proof that plant-based ice is so much more than fruit sorbet and offer some seriously fancy and innovativefantastic fillings for your Tribeca cones, bowls and sandwiches. They have interesting flavours like raw-chocolate and maca-salty-caramel to banana-walnut ice cream on their display! Our secret favorite is pistaccio-luccuma.
Tribeca Ice Cream, Rykestraße 40, 10405 Berlin Prenzlauer Berg, www.tribecaicecream.com Mon–Sun 13–19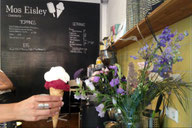 Gelateria Mos Eisley
The only thing making the beautiful sun set over Tempelhofer Feld in Neukölln even better is enjoying it with our favourite homemade ice cream from Mos Eisley in your hands. The small ice cream shop of Daniela Teuber is a wonderful destination where vegan ice cream dreams come true. Though not all vegan, you'll find a great variety of sorbets and weekly changing soy-based choices in their gelato cabinet at Herrfurthplatz!
Mos Eisley Ice cream shop, Herrfurthplatz 6, 12049 Berlin Neukölln, www.moseisley-gelateria.de, daily 12–20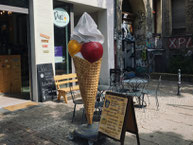 Duo Sicilian Ice Cream
Get excited about original Sicilian family ice recipes and coop sizes that don't leave any wishes unfilled. 
Vegan (and non-vegan) hearts will be in love with the plant-based highlights on the menu (which makes up around 50% of all flavors) - which you can also turn into a divine milkshake: hazelnut, coconut, coffee, dark chocolate, nougat, pistachio, pineapple, raspberry, strawberry, and only here: avocado. They even got a sugar-free option! Big tasty plus: all the waffles are handmade and vegan. P.S. Coconut was to die for - you could taste its pure, natural ingredients like crunchy coconut chunks.
The location of Duo in the vibrant Kreuzberg area couldn't be better. You can sit down and chill in their outdoor seating area, watch the iconic yellow Berlin metro ride by, or take your ice for a stroll around to the river Spree. 
Duo Sicilian, Skalitzer Straße 77, 10997 Berlin Kreuzberg, www.duoicecream.de, daily 10–22, if the weather is nice, they are open longer
More eco-minded projects, podcasts, events & guided Kiez tours can be found on Claudi's website: www.greenmeberlin.com
If you want to find more hidden gems of Berlin, check out my folding maps BertaBerlin, QueerBerlin, BeautyBerlin or YogaBerlin map. They are available in well-chosen locations all over Charlottenburg, Neukölln, Kreuzberg, Mitte, Schöneberg and Prenzlauer Berg in Berlin and online. But for those of you, who want to stay up to date, feel free to follow me on INSTAGRAM, FACEBOOK or register for my NEWSLETTER BertaNews.